1. Webinar on Effective Learning & Memory Improvement 
| | |
| --- | --- |
| | Jeevani in association with IQAC conducted a webinar on the topic 'Effective learning and memory improving techniques' on 27/09/2021. Dr. S. J. Shabu, the principal (i/c) and jeevani coordinator welcomed the students and session was handled by Jeevani Psychologist Athira P. The class was mainly focused on the need of relaxed state during studying, different relaxation methods and learning styles, mnemonic methods etc. Through the session, the students became aware of finding out their own comfortable learning style for better acquisition of their studying materials. The speaker described different types of relaxation techniques such as deep breathing exercise, guided imagery techniques and benefits of stretching during free times and explained some tips and tactics to improve attention and concentration. The students are introduced by a new concept, which was mindfulness. Mindfulness simply means maintaining a moment-by-moment awareness of our thoughts, feelings, bodily sensations, and surrounding environment, through a gentle, nurturing lens. When we practice mindfulness, our thoughts tune into what we're sensing in the present moment rather than rehashing the past or imagining the future. Different types of memory improving techniques also explained in the event. The class was interactive and the students clarified their doubts regarding learning preparations. The programme was conducted through Google meet platform. Through the session the students revealed that they are suffering much anxiety about the coming exams and requested the Jeevani Psychologist to arrange a session about 'How to overcome exam anxiety'. |
2. First Semester UG Induction Programme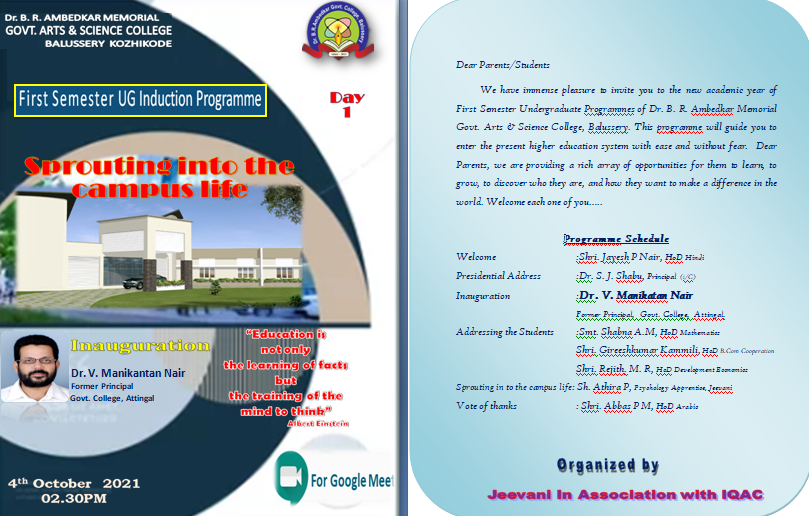 Jeevani in association with IQAC Conducted a UG induction program for first year degree students titled 'Sprouting into the Campus life' on 05/10/2021. Dr. V. Manikantan Nair, former principal, Govt. College, Attingal was the chief guest.  The event was welcomed by Shri. Jayesh P Nair, Head of department, Hindi and presidential address was chaired by Dr. S. J. Shabu, Principal (i/c) & Jeevani coordinator.  Dr. V. Manikantan Nair, the chief guest inaugurated the function and discussed about the importance and impact of campus life in a person, his experiences as a Former Principal Etc. After the inauguration, Jeevani Psychologist presented a session about mental development and goals in a campus life. College environment affects each individual in different ways. For better understanding everyone should aware of the features of their age group, emerging adulthood. The speaker explained different types of development in each individual such as physical development, mental development, social development and emotional development. The event also discussed the academic changes when a person moves from school life to college life, especially in learning patterns, teaching methods, understanding levels etc. As we all know, we are fighting with a pandemic now a days. The academic platforms get changed and we are using both online and offline classes. The speaker points out both possibilities and challenges of both offline and online classes. The event has ended by the votes of thanks by Shri. Abbas P. M., HoD Arabic. The programme was conducted through google meet platform and about 60 participants were participated.
3. Webinar On How To Overcome Exam Anxiety
| | |
| --- | --- |
| | Jeevani in coordination with IQAC Conducted a webinar on 'How to overcome exam anxiety' on 06/10/2021. Dr. S. J. Shabu, the principal (i/c) and jeevani coordinator welcomed the students and session was handled by Jeevani Psychologist Athira P. The class mainly focused on what was meant by exam anxiety, how to assess exam anxiety, the underlying causes behind exam anxiety, how to overcome it and the importance of revision in preparation. Exam anxiety is a physiological condition in which people experience extreme stress, anxiety and discomfort during and/ or before taking a test. This anxiety creates significant barriers to learning and performances. In that case, it is important to aware students about the tactics to overcome it. The speaker explained how to assess exam anxiety through certain questions and statements and importance of regular relaxation exercises. Also suggested some learning improving techniques for better learning which includes the benefits of studying regularly, importance of strategizing learning, preparing notes and flash cards, creating mind-maps and prioritizing each subject in terms of difficulty level. The session was conducted through Google meet platform and it was interactive. The students cleared all their doubts regarding exam anxiety. |
4. World Mental Health Day Celebrations 

Jeevani in coordination with IQAC conducted a webinar on the topic 'Importance of mental health' as a part of World Mental Health Day Celebration on 11/10/2021.
World Mental Health Day is celebrating every year on October 10, is aimed at elevating awareness and widens education about mental health issues across the world. In these pandemic times Mental health has come to focus like never before as people of all age groups and occupations bear the brunt of the 'new normal'. Students, people living alone, and those with pre-existing mental health conditions have been particularly affected."In recent years, there has been increasing acknowledgement of the important role mental health plays in achieving global development goals, as illustrated by the inclusion of mental health in the Sustainable Development Goals," according to World Health Organization (WHO). World Mental Health Day was first observed on October 10, 1992 as an annual activity of World Federation for Mental Health. The day initially did not have a specific theme and its aim was to promote mental health advocacy and educating the public on relevant issues. Seeing the popularity of the campaign, in 1994 for the first time a theme for the day was used which was "Improving the Quality of Mental Health Services throughout the world (World Mental Health Day-2021: All about history significance and theme, Hindustan times)".
Dr. S. J. Shabu, the principal (i/c) and jeevani coordinator welcomed the students and the session was handled by Jeevani Psychologist Athira P. The session discussed what is meant by mentally healthy, benefits of being mentally healthy, the importance of help seeking, the causes of mental health issues and how to improve our mental health. Research suggests that one in four adults experience a mental health issue. So it is very important to discuss and list out the major mental health concerns of college students. The speaker discussed the indications and warning signs of mental health issues and explained about how help seeking could improve mental wellbeing. The class was conducted through Google platform. 60 students were participated and session was interactive. The event also conducted an online speech competition on the topic 'How do I care myself. Two students were participated.
5. Training on Jacobson's Progressive Muscle Relaxation Technique 
 

Jeevani conducted a training session on Jacobson's Progressive Muscle Relaxation technique for first year BA Economics and B sc Mathematics students on 27/10/2021, for first year B com students on 29/10/2021, for second year B com students on 10/11/2021 and for second year BA Economics students on 17/11/2021.

 Jacobson's relaxation technique is a type of therapy that focuses on tightening and relaxing specific muscle groups in sequence. It's also known as progressive relaxation therapy. By concentrating on specific areas and tensing and then relaxing them, you can become more aware of your body and physical sensations (Rene Goldman, 2020).

The event explained the advantages of this technique and theory behind it. The participants did well as instructed.
6. Webinar On Toxic Relationships: Signs & Solutions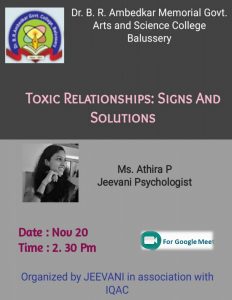 20/11/2021- Jeevani conducted a session on Toxic relationships: Signs and Solutions in association with IQAC. Dr. S. J. Shabu, the principal (i/c) and jeevani coordinator welcomed the students and session was handled by Jeevani Psychologist Athira P. Toxic relationships affect individuals in different ways including their personal life, social life and professional life. So every individual should aware of each element and have to take initiative to react on it.
 A toxic relationship is one that makes you feel unsupported, misunderstood, demeaned, or attacked. On a basic level, any relationship that makes you feel worse rather than better can become toxic over time. A relationship is toxic when your well-being is threatened in some way- emotionally, psychologically and even physically. It's important to recognize the signs of toxicity—whether it's in you or in the other person. It's important to note that toxic relationships are not limited to romantic relationships. They exist in families, in the workplace, and among friend groups—and they can be extremely stressful, especially if the toxicity isn't effectively managed (Elizabeth Scott, 2020).
The event Discussed toxic elements in parenting, friendships and romantic relationships, barriers and how to overcome the barriers. The programme was conducted through Google meet platform and about 72 students were participated. Participants including teaching staffs cleared all their concerns and discussed the relevant points in a healthy relationship. The discussion was very productive.
7. Session On Learning Skills & Memory Improving Technique
| | |
| --- | --- |
| | 23/11/2021- Jeevani conducted a session on 'Learning skills and memory improving techniques' for Bsc Mathematics first semester students. The session was handled by Jeevani Psychologist Athira P. The event discussed different learning styles, importance of being relaxed during learning, different memorizing tactics and the importance of revision. |
8. Session of Interpersonal Relationships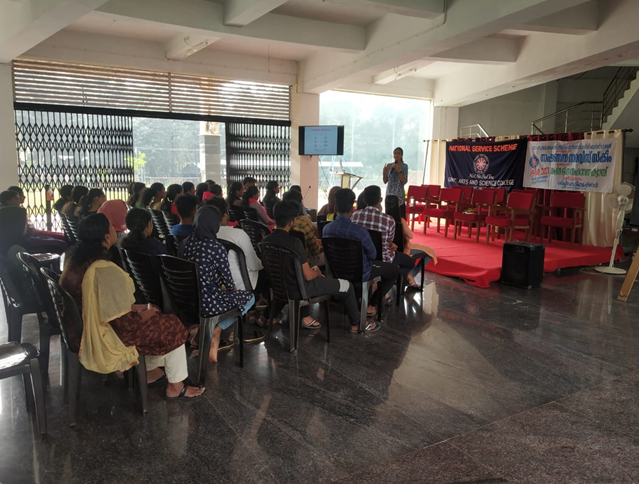 26/12/2021- NSS unit in association with Jeevani conducted a class on 'Interpersonal relationships' for NSS volunteers of batch 2020-2023 as a part of their seven day camp named 'Dhisha-2021'. The event discussed types of interpersonal relationships, its theories, triangular love theory of Sternberg, factors that influence interpersonal attraction, characteristics of healthy and unhealthy relationships etc. The class was very interactive and participants clarified their doubts regarding their relationships.
            Interpersonal relationships are the strong connections we feel with those closest to us. This could be friends, colleagues, family members and romantic partners. They're built on mutual respect, trust, and loyalty and they can provide us with support, care, and even love. Interpersonal relationships teach us who we are. From a very young age, the people around us form key aspects of our personalities and value systems. They can help give us a sense of purpose and direction. They're also a key component to overall physical and mental well-being. There's a strong link between relationships and emotional health. That's why it's vital to surround yourself with people who give you joy, support, and comfort (Alex Klein, 2020).
9. Habit Formation Course 
In the last few days, when the Jeevani Psychologist collected the problems and challenges of students of various departments, the most repeated response was about their laziness. Although they wanted to get into the habit of studying, they could not keep it. In that case the Jeevani coordinator Dr. Shabu S J and Jeevani Psychologist Athira P decided to conduct a one month (31 days) 'Habit formation course'. The main focus of this course was to create desirable habits, to break undesirable habits, to set goals and to maintain the goals etc. The course was designed under well known Psychologist Shri. Muhammed Sahid K. P., Chief psychologist at Life plus skill development and behavioral modification hub, Kumbidi. There were 10 mentors who guide and supported the participants effort to create good habits. A google form was created and 88 students from various departments registered on it. These students were divided under ten mentors and they checked the daily work outs of each student. There were total eight sessions on this course. 7 of them are handled by Shri. Muhammed Sahid K. P and remaining one is handled by Jusaina Mariyam, a mentor of this habit formation course. All classes were conducted through Google meet platform.
02/01/2022-went through the first session of one month habit formation course. That was a introductory session which explanis what they meant by such a course, the advantages of attenting the course and the class schedules. The event listed out the participants under ten mentors. The role of mentors, the importance of mentor-student relationships also had discussed. The programme was led by Shri. Muhammed Sahid K. P The session successfully establised an over all idea about what was meant by habits, how to create positive and desirable habits, how to maintain desirable habits, how to break unwanted habits etc.
04/01/2022-On the second day of the class series, Dr. S. J. Shabu, the principal (i/c) and jeevani coordinator welcomed the students and promised all his supports to the course. The event was led by the same person, Shri. Muhammed Sahid K. P. and he given a detailed explanation on the topic 'The power of habit'. The event discussed the importance of using some tactics before making a habit. There will be many triggering factors and cues which help to create and maintain desirable habits. The session given an idea about how to arrange the cues and triggers effectively for better results.
08/01/2022-the third session was all about 'Habit loop'. It was taken by Muhammed Sahid K. P. The event discussed what was meant by habit loop and how to break it by detailed explanation of the various components of habit loop with appropriate examples. We may have some undesirable habits that we always wanted to break and stop. Through detailed analysis of the habit loop it become easy to make control over our habits.
13/01/2022-went through the fourth session of habit formation course. The class was taken by Jusaina Mariyam, mentor and Bsc psychology student of Markaz Arts and Science college, Valanchery. The topic was zeigarnick effect and open loop. In psychology,the zeigarnick effect occurs when an activity that has been interrupted may be more readily recalled. It postulates that people remember unfinished or interrupted tasks better than completed tasks. Also recommends some tactics for better remembering of learning.
18/01/2022-on the fifth session of habit formation class, Muhammed Sahid K. P., the speaker explained the brain mechanism during habit formation. The session was all about the physiology behind the habits. Habits are behaviors wired so deeply in our brains, that we perform them automatically. The class was very interesting and interactive.
24/01/2022-went on fifth session of habit formation course. The topic was on 'How to manage triggers. In order to break some un desirable habits, every one need to manage its triggers. The session deals with some tactics to manage triggers that always result un desirable habits. The speaker was Muhammed Sahid K. P. and he shared some example of his own life. the class was interactive and students cleared their doubts.
28/01/2022- conducted the seventh session of habit formation. The topic was 'Mindfulness and habitand class was led by Muhammed Sahid K. P. Mindfulness means maintaining a moment-by-moment awareness of our thoughts, feelings, bodily sensations, and surrounding environment, through a gentle, nurturing lens. When we practice mindfulness, our thoughts tune into what we're sensing in the present moment rather than rehashing the past or imagining the future. The event discussed the importance of being mindful in every activity. When we make habits eventually our attention to that activity will weaken. To overcome it, the only solution is to rehearse mindfulness.
01/02/2022-went on eighth and final session of habit formation. Session was handled by Muhammed Sahid K. P. The event briefly summarizes the main points of previous sessions. The main focus of the session was on 'How to maintain good habits'. The speaker explained the tactics to maintain desirable habits with his life experiences. Maintaining a desirable habit is most important thing as well as creating it. The participants who actively involved the one month course shared their experiences and gratitude towards the speaker and other mentors. Finally, the Jeevani Psychologist Ms. Athira P thanked the event.